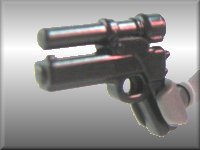 The Longslide is a BrickArms weapon that came with the 2010 series.It resembles a Colt M1911 with a laser sight attached. .It is available in gunmetal, black,and tan. introduced at brickfest 09, as a rare prototype, as seen here! [1]
(v1 longslide pistol prototype)
this weapon is often brought today and modded into a desert eagle.
this weapon is a great upgrade to the m1911 handgun! this weapon has a great, sleek and heavy look to it!