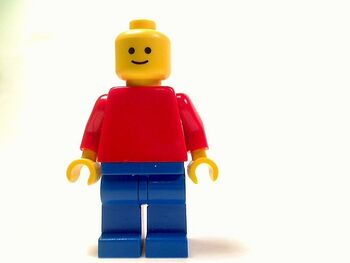 The ​LEGO
​Minifigure 
​or "fig" is a small articulated plastic figurine that was introduced in 1978, preceding the earlier "Legoland Figures". All have interchangeable parts, making them very customizable. Some minifigures have differences such heads that have no stud on top, taller/shorter legs etc. Since 1978, over 3.7 billion minifigures have been made worldwide.
Facial Features
Edit
The first minifigure faces were a simple two black dots and a smile painted on the head. After 11 years, in 1989, different facial features were seen after the Pirates theme. Such examples are facial hair, eyebrows, and different expressions.
The torso design of the traditional minifigures has stayed the same, though there are other minifigures with bodies made with different designs, the first different design was seen in the Life on Mars theme.
Minifigure legs have stayed the same, however different variations have been seen, including short legs for "child" minifigures, and taller legs.
Skin Color
Edit
In 2003, in the Star Wars theme, flesh colored minifigures were introduced. Since then, dozens of other themes are seen with flesh colored minifigures, such as Superheroes, Lord of the Rings, The Hobbit, and most recently The Lone Ranger.